Family cooking every night can be costly, but these 5 cheap and easy meals will fill you up — without putting a hole in your pocket and reduce your grocery bill.
Meal #1: Roast Pumpkin Soup
Ingredients:
750 g pumpkin cubed peeled seeded
2 carrots coarsely chopped
2 onions cut into wedges
1 garlic clove peeled
2 1/2 tbsp olive oil
1 potato diced large
1 L water
4 tsp chicken stock powder
1 cup cream
1 tsp ground nutmeg
1 pinch salt and pepper
Method:
Preheat oven to 180C.
Place pumpkin, carrots, onions and garlic in a baking dish or roasting pan.
Drizzle with olive oil and bake for 40-60 minutes until soft.
In a large pot over medium heat, bring water and chicken stock to a boil. Cook potato in simmering water until soft.
Combine potato and water with roasted vegetables and puree in a blender or food processor, or by using a stick mixer until smooth.
Return to pot over low heat and stir in cream, nutmeg, pepper and salt. Heat gently before serving.
Meal #2: Macaroni Mince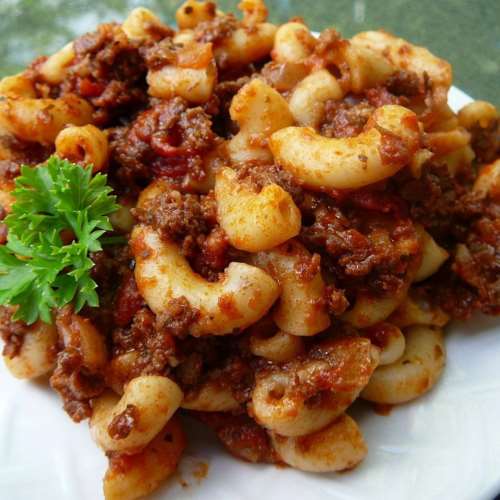 Ingredients:
750 g beef mince
420 g can condensed tomato soup
40 g French onion instant soup
2 cup macaroni uncooked
2 cup water
1 tsp mixed herbs
Method:
Brown mince in large pot.
Add the soup mix.
Add tomato soup. Stir.
Add the water and macaroni. Stir.
Add in mixed herbs to taste.
Let the mix come up to the boil, stirring occasionally.
Reduce to a low simmer, cover, and cook for 15-20 minutes stirring occasionally.
Meal #3: Easy Veggie and Lentil Lasagne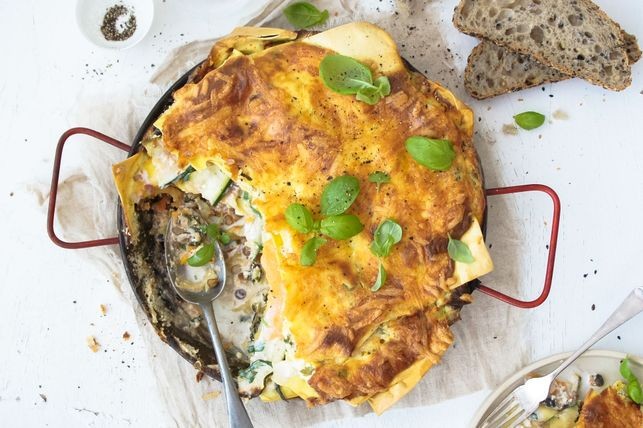 Ingredients:
1 tbsp olive oil
1 brown onion small finely chopped
2 cloves garlic crushed
100g baby spinach leaves
2/3 cup tomato pasta sauce
400g brown lentils drained rinsed
500g ricotta
2 eggs lightly beaten
300ml thickened cream
1 cup pizza cheese grated
1/3 cup fresh basil leaves shredded
3 fresh lasagne sheets large
2 zucchinis small thinly sliced
400g butternut pumpkin peeled thinly sliced
1 pinch salt and pepper
Method:
Preheat oven to 180C/160C fan-forced. Grease a 2-litre (8-cup) ovenproof dish and place on an oven tray lined with baking paper.
Heat oil in a large frying pan over medium heat. Cook onion and garlic, stirring, for 5 minutes or until softened. Add spinach and cook for 1 minute. Add lentils. Add pasta sauce and cook for 1 minute or until spinach is wilted. Season with salt and pepper. Cool for 10 minutes.
Place ricotta, eggs, cream and 1/3 cup pizza cheese in a food processor. Process until smooth. Season with salt and pepper. Stir in basil. Spread 1/4 of the ricotta mixture over base of prepared dish. Top with one lasagne sheet. Spread half the lentil mixture over pasta. Top with half the zucchini, then half the pumpkin, arranging each in a single layer.
Spread with 1/3 of the remaining ricotta and top with another lasagne sheet. Repeat layers with remaining lentil mixture and vegetables. Spread with half the remaining ricotta mixture and top with remaining pasta sheet. Spread with remaining ricotta mixture. Sprinkle with remaining pizza cheese.
Lay a sheet of baking paper over surface. Cover with foil. Bake for 30 minutes.
Uncover. Bake for a further 30 to 35 minutes or until golden. Stand for 5 minutes. Serve.
Meal #4: Chicken Shepherd's Pie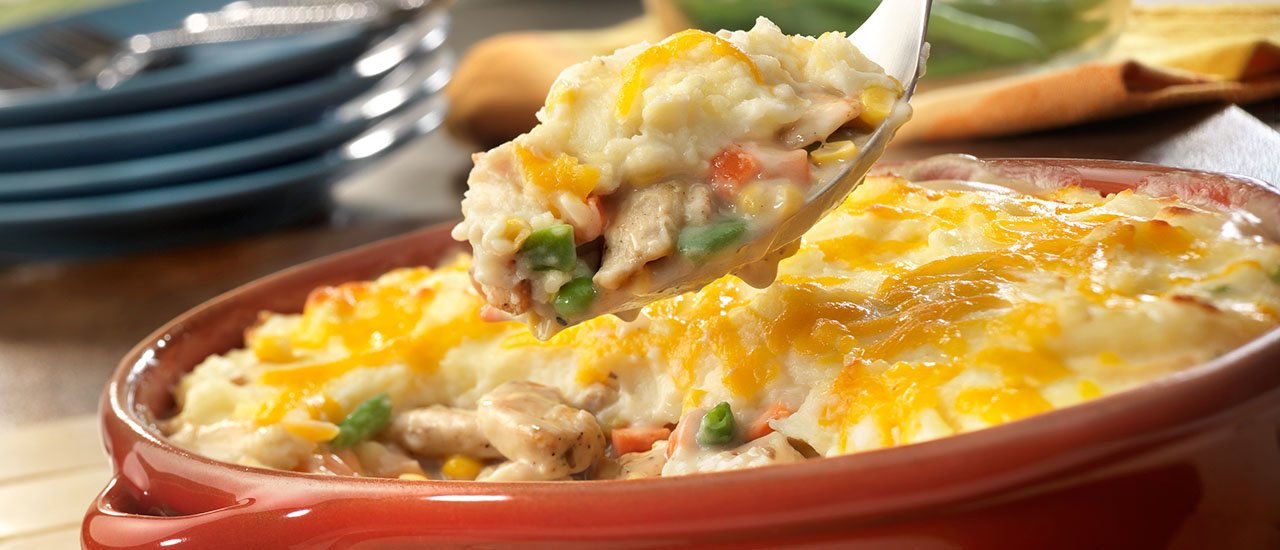 Ingredients:
500 g chicken fillets diced
3 tbs plain flour
1 onion chopped
1 garlic clove minced
3 carrots diced
1 cup frozen peas
2 cups Massel* Chicken Style Liquid Stock
1/2 cup milk optional
5 potatoes medium
Method:
Boil potatoes, drain and mash. Add a little milk or butter, if desired.
Cook chicken, onion and garlic in a non-stick pan, until starting to brown.
Add flour, stir through.
Add carrots, peas and stock, bring to boil.
Simmer gently, covered, for 20 minutes.
Stir in milk or cream.
Pour chicken mixture into a greased casserole dish.
Top with mashed potato.
Bake at 180C until top is golden, approximately 10 minutes.
Meal #5: Sweet and Sticky Vegemite Chicken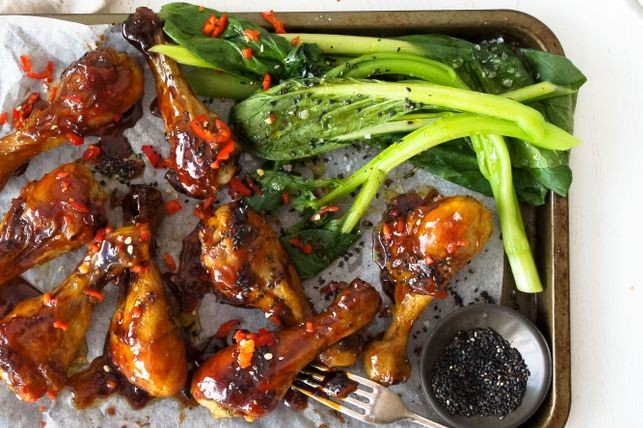 Ingredients:
1 tbs sesame oil
8 chicken drumsticks
3 cloves garlic thinly sliced
2 tsp Vegemite
1/3 cup boiling water
2 tbs sweet chilli sauce
2 tbs oyster sauce
1 tbs kecap manis
2 tsp brown sugar
2 tbs rice wine vinegar
1 long red chilli thinly sliced
1 bunch steamed Chinese broccoli
steamed jasmine rice
Method:
Heat oil in a large frying pan. Cook chicken, turning, for 5 minutes or until browned all over. Add garlic to pan and cook for 1 minute.
Combine Vegemite and boiling water in a small bowl until smooth. Stir in sauces, sugar and vinegar. Add to pan. Bring to a simmer. Simmer, covered, for 10 minutes. Simmer, uncovered, turning chicken occasionally, for 5 minutes or until chicken is cooked through and sauce is sticky.
Serve chicken with Chinese broccoli and steamed rice. Drizzle with sauce and sprinkle with chilli.
Cash advance in Australia
If the family is in a tight budget, a cash advance can help you with these cheap and easy meals.
Cash advance is the same as short term loans. As it's done online, the loan application procedure is extremely simple, particularly with Quickle.
The best part about Quickle is that everything will be spelled out for you.
When your application is approved, the funds will be directly credited into your account within hours or the following day.