Christmas is just around the corner! Planning your dinner with family and friends is inevitable. Set aside the budget you'll need and start creating your Christmas dinner menu as soon as possible.
Tight on budget? A lovely dinner doesn't have to be expensive. Turn up a festive feast with these cheap and delicious Christmas dinner ideas.
Orange and five-spice glazed ham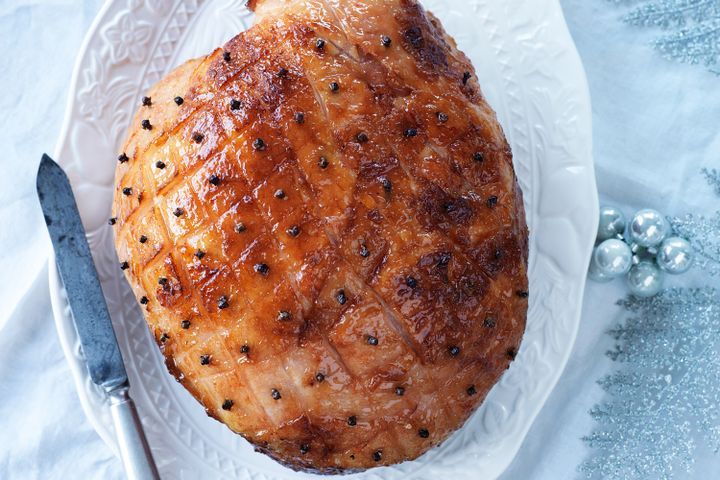 Ingredients:
7kg whole leg ham, on the bone
Whole cloves, to stud
125g (3/4 cup, lightly packed) brown sugar
170g (1/2 cup) orange marmalade
1 teaspoon Chinese five spice
2 1/2 tablespoons Masterfoods Dijon Mustard
500ml (2 cups) fresh orange juice
Method:
Place an oven shelf in the lowest position and remove other shelves. Preheat oven to 170°C. Use a small sharp knife to cut around the shank in a zigzag pattern, about 10cm from the end. Carefully run the knife under the rind around the edge of the ham. Gently lift rind off by running your fingers between the rind and the fat. Score fat in a diamond pattern, about 5mm deep. Stud centres of diamonds with cloves.
Combine the sugar, marmalade, Chinese five spice and mustard in a bowl until smooth. Place the ham, fat-side-up, in a large baking dish. Pour the orange juice into the dish. Brush one-third of the glaze over the ham.
Bake the ham for 30 minutes. Brush with half the remaining glaze. Bake, brushing once with remaining glaze, for a further 1 1/4 hours or until ham is cooked through and the surface is sticky and golden. Set aside for 15 minutes to rest before carving.
Buffalo wings with blue cheese dip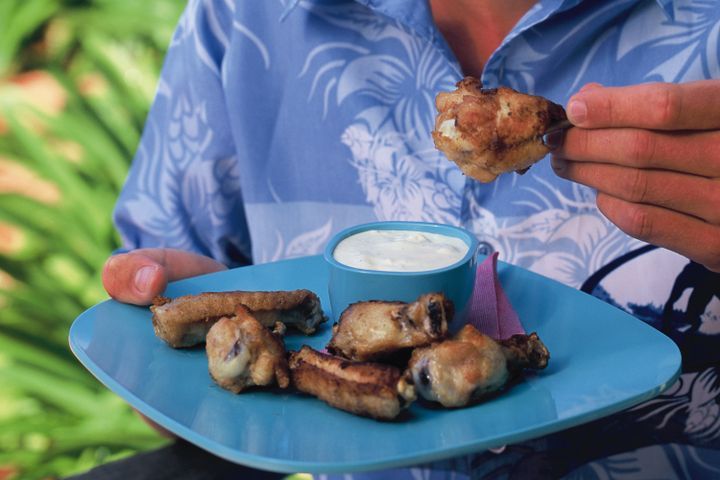 Ingredients:
24 chicken wings, tips discarded
1 tablespoon garlic salt
1 1/2 tablespoons onion powder
2 teaspoons ground white pepper
2 tablespoons plain flour
Oil, to deep-fry
75g unsalted butter
150ml Masterfoods Tomato Sauce
1/4 cup (60ml) Worcestershire sauce
1 teaspoon sweet chilli sauce
Blue cheese dip
150g mild blue cheese (such as Blue Castello)
1/2 cup (125g) sour cream
1/2 cup (125g) mayonnaise
2 garlic cloves, crushed
Method:
Cut each wing in half through the joint. Combine garlic salt, onion powder, pepper and flour with 1 teaspoon salt. Rub onto wings. Heat a little oil in a large frypan over medium-high heat. When hot, fry wings for 2-3 minutes each side, without letting them colour too much. Drain on paper towels. Cool slightly.
Combine the butter with tomato, Worcestershire and chilli sauces. Toss the chicken wings in the marinade, cover and refrigerate overnight.
The next day, place dip ingredients in a food processor and pulse to combine. If mixture is too stiff, mix with a little warm water to make a smooth dipping sauce.
Preheat the oven to 180°C or the barbecue to medium-high. Cook the chicken wings for 10 minutes until cooked through and golden, then serve with the blue cheese dip.
Bacon-wrapped beef sausages with tomato salsa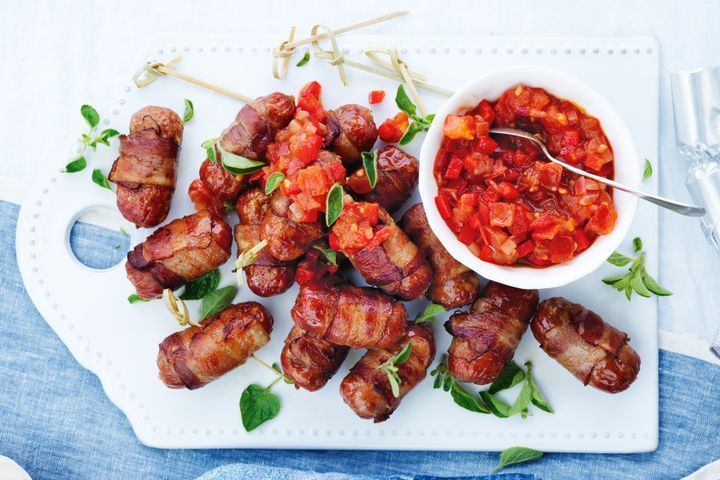 Ingredients:
2 tsp olive oil
1/2 red onion, finely chopped
1 small red capsicum, seeded, finely chopped
1 garlic clove, crushed
300g vine-ripened tomatoes, finely chopped
2 tsp caster sugar
1 tbs balsamic vinegar
2 x 360g pkts Coles Sausages in Bacon
Method:
Preheat oven to 200°C. Line a baking tray with baking paper.
Heat the oil in a small saucepan over medium heat. Add the onion, capsicum and garlic. Cook, stirring, for 5 mins or until onion softens. Add tomato and sugar. Bring to the boil. Reduce heat to low and simmer, stirring occasionally, for 15 mins or until sauce thickens. Remove from heat and stir in the vinegar. Season.
Meanwhile, place the sausages on the lined tray. Bake, turning occasionally, for 15 mins or until golden brown and cooked through.
Arrange sausages on a serving platter. Serve with tomato salsa.
Cranberry turkey meatloaf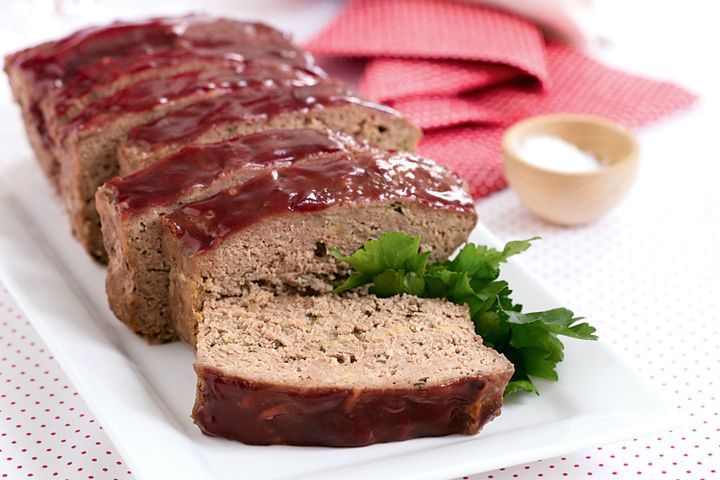 Ingredients:
1kg turkey mince
1 egg, lightly beaten
1 small brown onion, grated
1 granny smith apple, grated
2 garlic cloves, crushed
1/4 cup shredded fresh sage leaves
2 tablespoons chopped fresh flat-leaf parsley leaves
3/4 cup dried breadcrumbs
1/2 cup cranberry jelly, melted
Method:
Preheat oven to 180°C/160°C fan-forced. Grease a 6cm-deep, 14cm x 21cm loaf pan. Line with baking paper, leaving a 5cm overhang at both long sides.
Using hands, combine turkey, egg, onion, apple, garlic, sage, parsley and breadcrumbs in a bowl. Press mixture into prepared pan.
Brush top with 2 tablespoons cranberry jelly. Bake for 1 hour or until cooked through. Stand in pan for 5 minutes. Using paper lining, remove from pan. Transfer to a platter. Brush with remaining jelly. Serve.
Cheap Christmas Dinner Ideas
Click To Tweet
Crispy roasted potatoes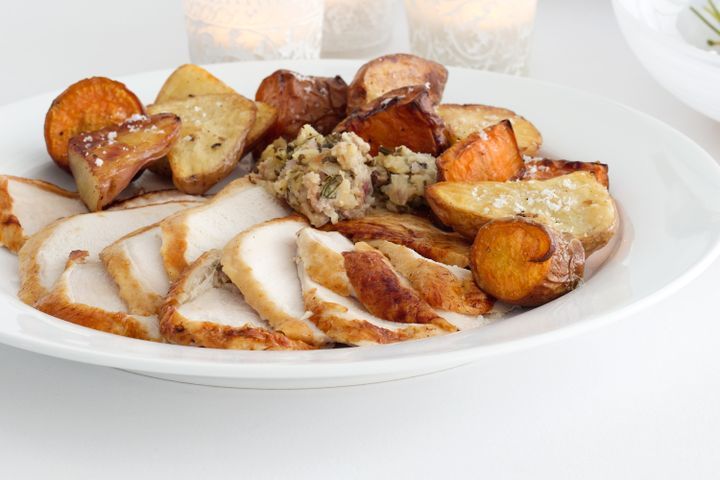 Ingredients:
850g red rascal potatoes, cut into 5cm pieces
850g orange sweet potato, cut into 5cm pieces
2 tablespoons olive oil
1 bulb garlic, unpeeled, cloves separated
Method:
Place potatoes and sweet potatoes in a large saucepan. Cover with cold water. Cover and bring to boil. Reduce heat to medium. Cook, partially covered, for 5 to 10 minutes or until just tender. Drain.
Preheat oven to 220°C. Line a large roasting pan with baking paper. Spread potatoes and sweet potato over pan. Drizzle with oil. Toss to coat. Roast, turning occasionally, for 25 minutes. Add garlic. Cook, turning occasionally, for 20 minutes or until vegetables are tender, golden and crisp. Season with salt and pepper. Serve.
Fresh peach chutney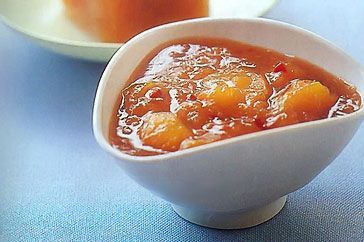 Ingredients:
1kg yellow peaches, peeled
1 small red onion, finely chopped
2 garlic cloves, crushed
5cm piece fresh ginger, peeled, grated
1/2 cup malt vinegar
1/2 cup white sugar
2 tablespoons sweet chilli sauce
Method:
Cut peaches in half. Remove stones and roughly chop the flesh.
Combine peaches, onion, garlic, ginger, vinegar, sugar and sweet chilli in a 3-litre capacity, microwave-safe jug or bowl. Microwave in Panasonic Microwave, uncovered, on HIGH (100%) power for 25 to 30 minutes, stirring every 5 minutes, or until chutney is thick.
Spoon hot chutney into hot sterilised jars. Cover with a tea towel and allow to cool. Seal and label. Refrigerate after opening. Serve on Christmas day with ham or turkey. Alternatively, use on sandwiches.
Christmas pikelets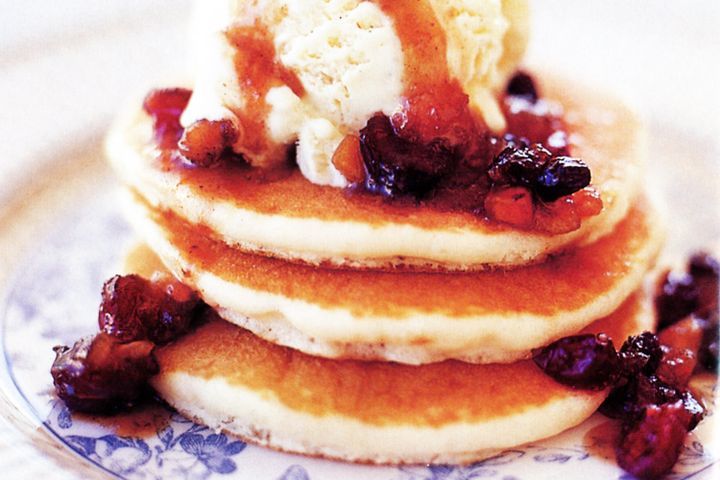 Ingredients:
12 bought pikelets
410g jar fruit mince
40ml (2 tablespoons) brandy
Vanilla ice-cream, to serve
Method:
Preheat oven to 150°C.
Wrap the pikelets in foil and place in the oven for 10 minutes to gently warm.
Place the fruit mince, brandy and two tablespoons of water in a saucepan over medium heat and warm through.
To serve, place three pikelets on each serving plate. Top with a scoop of ice-cream and a spoonful of warm fruit mince mixture.

Cash advance in Australia
If the family is in a tight budget or waiting for the next paycheck, a cash advance can help you with these recipes.
As it's done online, the loan application procedure is extremely simple, particularly with Quickle.
The best part about Quickle is that everything will be spelled out for you.