Run out of decent midweek meal ideas that will feed your family for a cheaper cost? Grab some inspiration from these delicious recipes we've rounded up that'll save you some cash at the checkout. These are easy to make and your entire family will love them!
Peanut Butter Chicken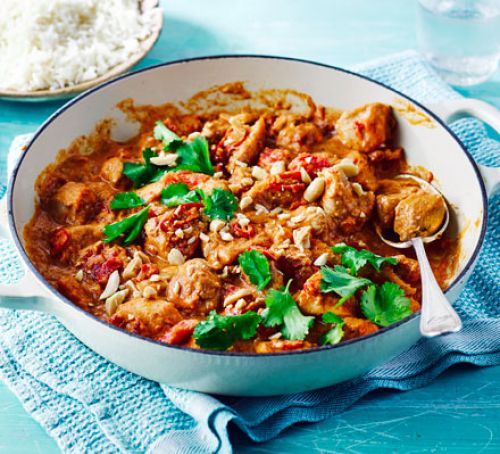 This recipe is ideal for an easy midweek meal and an introduction to curry for children. The whole family will love this new, budget chicken dish. Any leftovers freeze well and make a handy lunch. This also go down well with rice and poppadoms.
Ingredients:
2 tbsp vegetable oil

8 skinless boneless chicken thighs, cut into chunks

1 garlic clove, crushed

2 red chillies, finely sliced (deseeded if you don't like it too hot)

2 tsp fresh ginger, grated

2 tsp garam masala

100g smooth peanut butter

400ml can coconut milk

400g can chopped tomatoes

1 small bunch coriander, ½ roughly chopped, ½ leaves picked

roasted peanuts, to serve

cooked basmati rice, to serve
Method:
Heat 1 tbsp of the oil in a deep frying pan over a medium heat. Brown the chicken in batches, setting aside once golden. Fry the garlic, chilli and ginger in the other 1 tbsp oil for 1 min. Add the garam masala and fry for 1 min more.

Stir in the peanut butter, coconut milk and tomatoes, and bring to a simmer. Return the chicken to the pan and add the chopped coriander. Cook for 30 mins until the sauce thickens and the chicken is cooked through.

Serve with the remaining coriander, roasted peanuts and rice, if you like.
Notes:
Add in onion, extra garlic, courgette, lime juice, fish sauce, tomato ketchup and chopped nuts.

You can replace chillis with mild curry powder.
Recipe from Good Food magazine, August 2016
Super Smoky Bacon & Tomato Spaghetti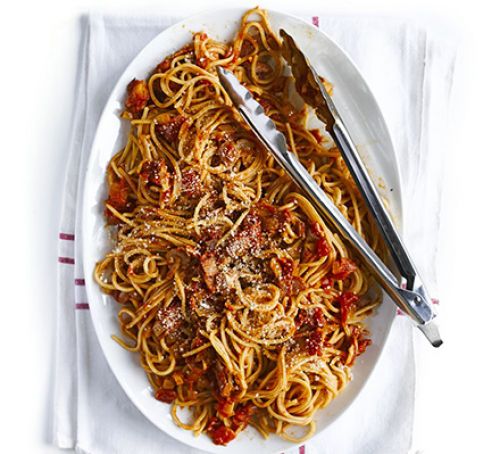 It's hard to believe it's only 500 calories as it is a comforting, perfectly tasty pasta dish! With a budget-busting tomato and paprika sauce, it's a healthy choice to boot.
Ingredients:
400g spaghetti

1 tbsp olive oil

120g smoked streaky bacon, sliced into matchsticks

1 onion, finely chopped

1 garlic clove, finely chopped

2 tsp sweet smoked paprika

2 x 400g cans chopped tomatoes

grated parmesan, to serve (optional)
Method:
Bring a large pan of water to the boil and cook the spaghetti following pack instructions. Meanwhile, heat the oil in a large non-stick frying pan and cook the bacon for 3-4 mins until just starting to crisp. Stir in the onion and cook for another 3-4 mins, then add the garlic and smoked paprika, and cook for 1 min more.

Pour in the chopped tomatoes, bring to the boil and bubble for about 5 mins until thickened, stirring every so often to stop it catching on the bottom. Drain the pasta and toss with the sauce. Serve with Parmesan, if you like.
Notes:
Add in some more veggies as it'd be nice to have more colour on the plate.

Add some peppers and spinach to add some of your 5-a-day.
Recipe from Good Food magazine, April 2014
Lentil Ragu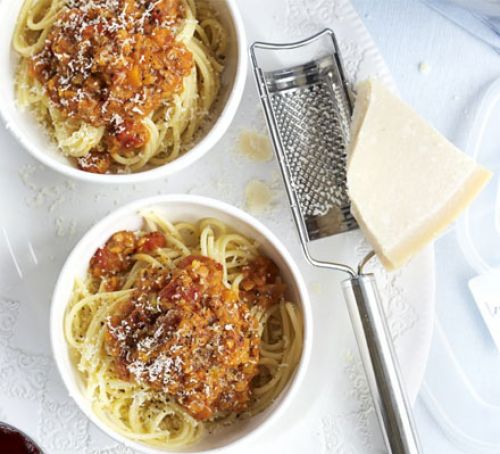 Struggle to get your 5-a-day? This super healthy ragu will get you four steps closer and can be frozen for extra convenience. Delicious and plentiful!
This recipe is great just as it is, but can be modified in so many ways. Just about any type of vegetables can go in it and it can be served with almost any type of carb (pasta, crusty bread, potatoes, rice, etc.). A good sturdy recipe.
Ingredients:
3 tbsp olive oil

2 onions, finely chopped

3 carrots, finely chopped

3 celery sticks, finely chopped

3 garlic cloves, crushed

500g bag dried red lentils

2 x 400g cans chopped tomatoes

2 tbsp tomato purée

2 tsp each dried oregano and thyme

3 bay leaves

1l vegetable stock

500g spaghetti

parmesan or vegetarian cheese, grated, to serve
Method:
Heat the oil in a large saucepan and add the onions, carrots, celery and garlic. Cook gently for 15-20 mins until everything is softened. Stir in the lentils, chopped tomatoes, tomato purée, herbs and stock. Bring to a simmer, then cook for 40-50 mins until the lentils are tender and saucy – splash in water if you need. Season.

If eating straight away, keep on a low heat while you cook the spaghetti, following pack instructions. Drain well, divide between pasta bowls or plates, spoon sauce over the top and grate over some cheese. Alternatively, cool the sauce and chill for up to 3 days. Or freeze for up to 3 months. Simply defrost portions overnight at room temperature, then reheat gently to serve.
Notes:
Add spices to make it into more of a chili or curry.

Put cheese on top or Greek yoghurt. It never gets boring!
Recipe from Good Food magazine, March 2011
Cheap Recipes You Can Make For The Family
Click To Tweet
Leftover Roast Fritters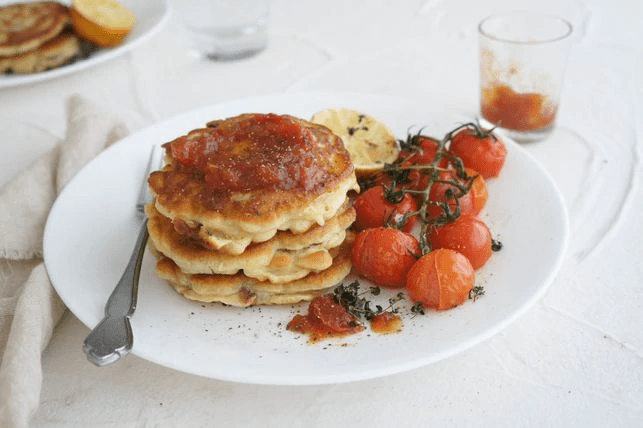 Make this recipe for your family and friends and they will adore you. Those who are not big eaters will certainly ask for seconds.
Ingredients:
Batter
1/2 cup plain flour

1/2 cup self-raising flour

1 cup milk

1 egg

1 pinch salt and pepper *to taste

1 tbs butter
Method:
Cut meat into 1 cm cubes.

Sift flour and salt into a bowl and add pepper, egg and milk.

Beat to form a smooth pancake-like batter.

Add meat to batter and mix in well.

Heat a frying pan and add a tablespoon of butter to the pan.

Once butter has melted add spoonfuls of the batter to the frypan, cook until golden brown on both sides.

Serve hot, with tomato or barbeque sauce.
Notes:
Left over fritters can be kept for the next day and reheated in the microwave on a paper towel to stop them going soggy.

Try it with pork, turkey, lamb, and fresh rosemary.

Add chopped BBQ chicken breast, chilli, fresh thyme, parsley, garlic chives, spring onion, grated carrot and white pepper. These additions will be great for grown ups.

If the family is in a tight budget or waiting for the next paycheck, a cash advance can help you with these recipes. The loan application procedure is extremely simple, particularly with Quickle, because it's done online.
Choose the loan amount you need, answer a couple of enquiries about you and your financial status, then submit the application form! When your application is approved, the funds will be directly credited into your account within hours or the following day! It's that quick!
The best part about Quickle is that everything will be spelled out for you.
There are plenty of recipes that are cheap, healthy and great-tasting everywhere. You just have to practice your skill in research and your creativity. The whole family benefits as you not only feed them delicious meal, it's also budget-friendly!