As technology advances, keeping track of your spending habits is no more a tiresome task. You must be aware of the importance of budgeting as all the effort you invest is worth it.
There is a plethora of the best and most effective budgeting apps for you and your family to use. Check out these apps if you need help reining in your spending and getting your personal finances under control.
Goodbudget — Budget planner
Goodbudget is a money manager and expense tracker that's great for home budget planning. This personal finance manager is a proactive budget planner that helps you stay on top of your bills and finances. Built for easy, real-time tracking!
Goodbudget is based on the envelope budgeting method. Check envelopes balances (how much you have left to spend) while you're on-the-go.
Goodbudget is perfect for sharing a budget with a spouse, family member, or friend. Sync across Android, iPhone, and the web to share your budget with your budgeting partners. Keep everyone on the same page with household finances!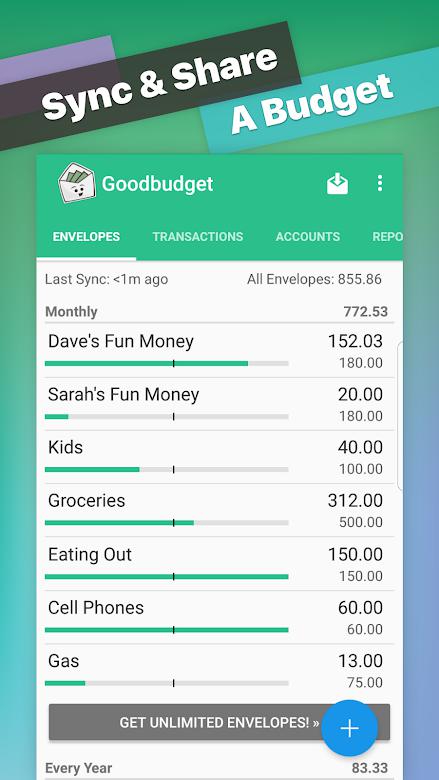 Download the Goodbudget app for iOS or Android.
Your data is automatically and securely backed up to Goodbudget's website.
Know how to modify your budget after analyzing reports.
Spending by envelope report (pie chart)
Income vs spending report
Ad-free, Free Forever version includes 10 regular envelopes & 10 annual envelopes.
Schedule transactions and automatic envelope fills.
Wallet — Finance tracker & budget planner
Tracking your money just got easier! Wallet is a personal finance planner that helps you save money, plan your budget, and track spending. Actively plan and manage your money, you will become your own finance manager.
Get a report about your finances, together with the people you trust, across multiple currencies, banks, and financial institutions. You can easily control your spending and save more using the finance tracker.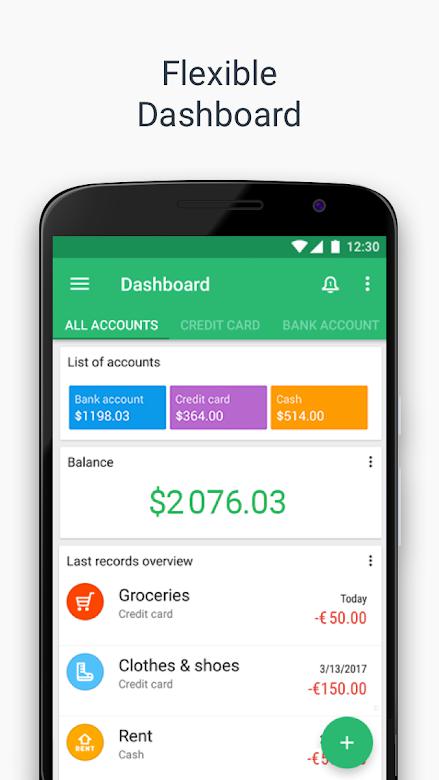 Download the Wallet app for iOS or Android.
Automatic bank updates — Transactions are automatic and securely synced with your bank, smartly categorized, and factored into your budget.
Imports or manual bank updates — You can now import all your transaction data from sources of your choice to Wallet to get a full report.
Flexible budgets — Whatever it is you need to accomplish, from paying off debt to buying a car, or saving for retirement, Wallet offers the flexibility to meet your goals and cleverly react to any changing financial circumstances — thanks to the integrated finance manager.
Insightful reports — Easy-to-understand graphs and financial overviews give you actionable finance insights about the state of your finances, across bank accounts, credit and debit cards, debts and cash.
Sharing selected accounts — Selected accounts can be shared with family, friends or colleagues who need to cooperate on a budget. Everyone can contribute from any platform, whether it be Android, iPhone, or the Web.
PocketGuard — Personal finance, money, & budget
PocketGuard is one of the leading, easiest to use personal finance apps. This handy tool can finally make money management and budgeting trouble-free.
PocketGuard helps you stay on top of your finance and make better financial decisions with all of your financial accounts in one place — paying bills, managing multiple accounts, staying on top of your spending habits.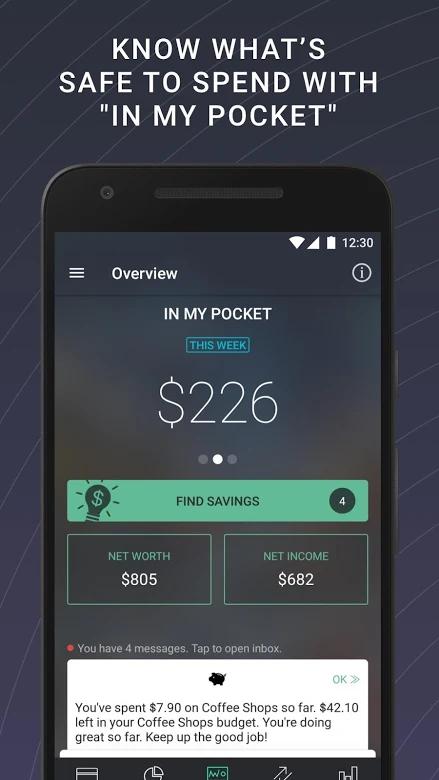 Download the PocketGuard app for iOS or Android.
Sync your loans, savings, and investment data — get an actual, transparent picture of your finances.
Track your income and expenses.
See exactly how much is in your pocket.
Compare your spending habits month by month.
Cut your regular bills for Comcast, AT&T and many other providers by up to 25% without leaving the app.
Timely notifications and alerts. Receive timely reminders about credit card bills and loan payments.
Security and data protection. 256-bit SSL encoding protects all of your sensitive data.
Additional 4-digit PIN ensures no one can access your financial data if the phone is lost or stolen.
Read-only connection with your bank makes it impossible for anyone (you included) to move money from your bank account via PocketGuard; for all of the bank transactions, you will have to use a dedicated online banking app.
The Best Budgeting Apps For Your Family
Click To Tweet
YNAB (You Need A Budget)
YNAB will help you break the paycheck to paycheck cycle, get out of debt, and save more money. On average, new users save $600 in the first two months, and more than $6,000 in the first year. You can try it free for 34 days.
YNAB is based on a proven method — YNAB's 4 Rules:
Rule 1: Give every dollar a job — Be intentional about what you want your money to do before you spend it. By tracking your expenses you will make better decisions.
Rule 2: Embrace your true expenses — More than just an expense tracker, YNAB can help you prepare for the future. Break up larger, less frequent expenses into smaller, more manageable amounts. By budgeting monthly for insurance premiums, holidays, or car repairs, when the time comes, your money is ready and waiting to do its job.
Rule 3: Roll with the punches — When life changes, so must your budget. Make adjustments and move along. Flexible budgets succeed because they're guilt-free, realistic, and sustainable. Good money management habits are ones you can stick with.
Rule 4: Age your money — As you repeat the first three rules, you'll increase the time between the moment you earn a dollar and the moment you need to spend it. When your money is at least a month old, you'll have finally broken the paycheck to paycheck cycle for good. Your personal finances will never feel the same again. In a good way.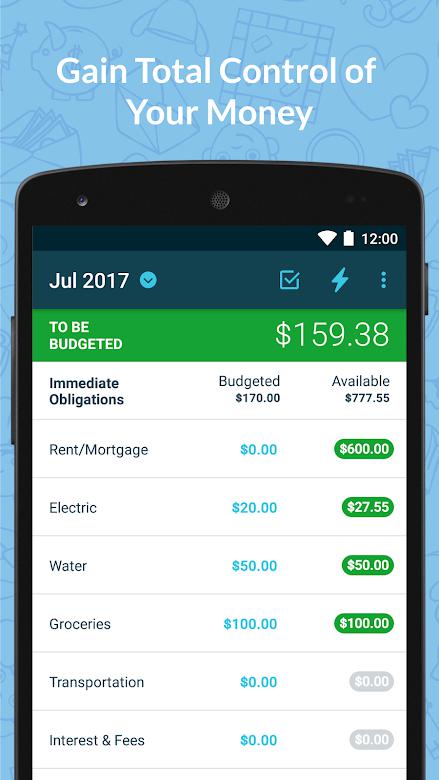 Download the YNAB app for iOS or Android.
Bank synching — Easily connect all your accounts in one place.
On the go — Real time access to all your data makes it simple to share finances with a partner.
Debt paydown — The tools and teaching you need to help you get out of debt for good.
Goal tracking — Set and track goals to reach them faster.
Reporting — Detailed, visual spending, and trend reports help you measure progress and improve.
Personal support — YNAB's support team is available around the clock via email, live chat in the app, and offer 100+ free, live workshops every week.

Quickle's fast loans
Sometimes, the unexpected happens and even if you budget your finances, you need personal loans for whatever reason. No matter what your financial situation is, Quickle believes in a fair go. So, need cash now?
Quickle can provide you with small cash loans or fast loans online. Chat with Quickle's experienced team to learn how you can get access to funds you need.
You can apply online to receive an obligation-free quote to see what Quickle loan can be offered to you. You can even work your payment schedule into one of the above budgeting apps!